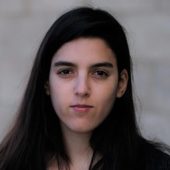 Researcher, Employment Team (Systems Group)
Employment
Researcher, Employment Team, Systems Group, the Myers-JDC-Brookdale Institute (MJB), Israel's leading center for applied social research.
Anna Schwartz has worked at MJB since 2015. Her main research areas are: employment advancement programs for special populations, skills in a changing work world, and behavioral interventions (Nudge theory) for the improvement of social services in the area of employment. She is highly experienced in social psychology research, which she incorporates into her MJB work.
Anna holds a BA in psychology and history from Tel Aviv University and an MA in social psychology from the Hebrew University of Jerusalem. She is currently working towards her PhD on organizations at the Jerusalem School of Business Administration of the Hebrew University of Jerusalem, under Prof. Lilach Sagiv.
She can be contacted at AnnaSc@jdc.org or by telephone at 972-2-655-7371.