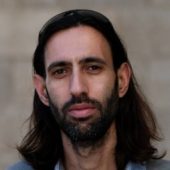 Team Leader, Data Collection Team
Data Collection
Data Collection Team leader, the Myers-JDC-Brookdale Institute (MJB), Israel's leading center for applied social research.
Ben Schlomi von Straus has worked at MJB since 2006. His main responsibilities are: managing and training team members, data collection for MJB studies, consultation and instruction for researchers and research teams on data collection,  and consultation to external parties on data collection issues.
Ben holds a BA in philosophy and history and an MA in philosophy, both from the Hebrew University of Jerusalem.
He can be contacted at bens@jdc.org or by telephone at 972-2-655-7532.