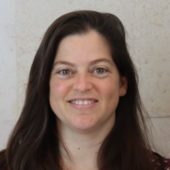 Research Analyst, Employment Team (Systems Group)
Employment
Research Analyst, Employment Team, Systems Group, the Myers-JDC-Brookdale Institute (MJB), Israel's leading center for applied social research.
Dana Cohen has worked at MJB since 2019. Her main research areas are: formulation of quality-of-life indicators for the Bedouin population in the Negev and evaluation of programs for the integration of Bedouin students in higher education. In addition to researching the Bedouin population in the Negev, Dana specializes in research on barriers to employment and attitudes about employment, and in the study of employment objectives and indicators.
Dana is experienced in quantitative and qualitative research methods.
As a research team leader at the Open University of Israel, Dana addressed the issues of personal values and meaning in life.
Dana also held a variety of positions in non-formal education and engaged in consulting for public and third sector organizations.
Dana holds a BA in Psychology and an MA in Social Organizational Psychology, both from the Open University of Israel.
Dana can be contacted at [email protected] or by phone at 972-2-6557430.