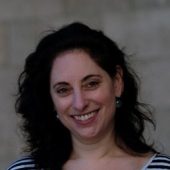 Director, External Relations Team
External Relations
Director of External Relations, the Myers-JDC-Brookdale Institute (MJB), Israel's leading center for applied social research.
Keri Zelson Warshawsky has worked at MJB since 2015. She is responsible for Board and donor relations, communications, public relations, and strategic partnerships. Prior to MJB, she worked as a researcher and analyst at the Hebrew University of Jerusalem; the Mandel Leadership Institute; the ministries of Education, Health, Labor, Justice, and Public Security; and the Center for International Migration and Absorption at JDC. She is also a professional translator and editor. Her work has helped to shape national policy, legislation and practice, and covered a broad spectrum of populations and social issues in Israeli society.
Keri holds a BA from the University of Pennsylvania, and an MA in Social Anthropology and PhD from the School of Education, both from the Hebrew University of Jerusalem.
She can be contacted at [email protected] or 972-509604402.