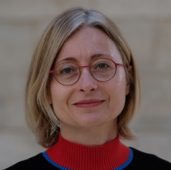 Research Scholar, Quality Assurance Team (Quality in Social Services Group)
Quality Assurance
Research scholar, Quality Assurance Team, Quality in Social Services Group, the Myers-JDC-Brookdale Institute (MJB), Israel's leading center for applied social research.
Ellen Milshtein has worked at MJB since 2007. Her primary research area focuses on the evaluation of training programs, particularly programs to develop Jewish leadership worldwide. In addition, she has specialized in studies of people with disabilities, sudden loss, and bereavement.
Ellen holds a BA in sociology and education from Bar-Ilan University and an MA in anthropology and sociology from the Hebrew University of Jerusalem.
She can be contacted at [email protected] or by telephone at 972-2-6557495.
Journal Articles
Ornoy, A., Ovadia, M., Rivkin, D., Milshtein, E., & Barlev, L. (2016). Prevalence of ADHD among 7-9-year-old children in Israel. A comparison between Jewish and Arab populations. Israel Journal of Psychiatry and Related Sciences, 53(2), 3-9.
Loeff, Y., Rivkin, D., & Milshtein, E. (2013). Children of new immigrants with special needs: Barriers to diagnosis and treatment with suggestions for better services. International Journal of Child Health and Human Development, 6(4), 493.
Mizrahi, I., Kaplan, G., Milshtein, E., Reshef, B. P., & Baruch, G. B. (2008). Coping simultaneously with 2 stressors: Immigrants with ovarian cancer. Cancer Nursing, 31(2), 126-133.