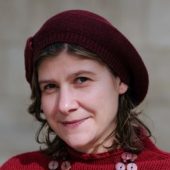 Research Associate, Health Team, (Systems Group)
Health
Research associate, Health Team, Systems Group, the Myers-JDC-Brookdale Institute (MJB), Israel's leading center for applied social research.
Shlomit Kagya has worked at MJB since 2016. Her primary research areas are: the mentoring method of professional training, the evaluation of employment programs, and the integration of the Arab population into higher education. In addition, she is involved in several projects on Big Data and Narrative Language Processing (NLP).
Shlomit holds a BA in sociology and anthropology, and an MA in organizational studies and demographics, both from the Hebrew University of Jerusalem.
She can be contacted at [email protected] or by telephone at 972-2-655-7430.
Journal Articles
Okun, B. S., & Kagya, S. (2012). Fertility change among Post‐1989 immigrants to Israel from the Former Soviet Union. International Migration Review, 46(4), 792-827.