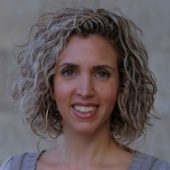 Executive Assistant, Executive Director's Office
Executive Director's Office
Administrator, Executive Director's office, the Myers-JDC-Brookdale Institute (MJB), Israel's leading center for applied social research.
Sivan Ohana has worked at MJB since 2007. Her main responsibilities are: managing the Executive Director's office and calendar, the Inwise digital messaging system, coordination with our government partners, JDC-Israel, and JDC in New York, and developing and improving the building's public spaces.
Sivan holds a BA in Spanish and Latin American studies from the Hebrew University of Jerusalem.
She can be contacted at sivano@jdc.org or by telephone at 972-2-655-7445.