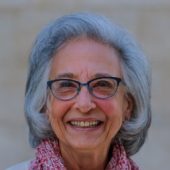 COO Senior Associate (COO Team)
COO
COO Senior Associate, COO Team, the Myers-JDC-Brookdale Institute (MJB), Israel's leading center for applied social research.
Suzanne Brown has worked at MJB since 2007. Her main responsibilities are: the development of MJB's strategic plan on behalf of JDC, and reporting to the MJB Committee on the progress of the work program. In addition, she is involved in the planning, coordination, and monitoring of the work programs of the research groups.
Suzanne holds a BA in classical studies from Boston University, an MA in education from Harvard University, and a Master of Health Administration from Tel Aviv University.
She can be contacted at [email protected] or by telephone at 972-2-655-7483.