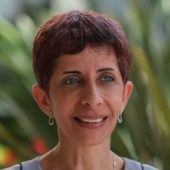 External Relations Associate, External Relations Team
External Relations
External Relations Associate, External Relations Team, the Myers-JDC-Brookdale Institute (MJB), Israel's leading center for applied social research.
Nathalie Bekhor has worked at MJB since 1995. Her main responsibilities are: coordinating activities for the External Relations Team, and coordinating with external government and academic partners, donors, Federations, foundations, and JDC,. In addition, she provides support for crosscutting internal organizational processes. Formerly, she coordinated two MJB areas of research, employment and disabilities.
Natalie is studying for her Masters in management of service organizations at Hadassah Academic College in Jerusalem. She also holds a BA in human resource management from Hadassah and a degree in alternative medicine from the London School of Acupuncture and Traditional Chinese Medicine.
She can be contacted at nathalieb@jdc.org.