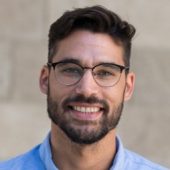 Content and New Media, External Relations
External Relations
In charge of content and new media, External Relations Team, the Myers-JDC-Brookdale Institute (MJB), Israel's leading center for applied social research.
Ori Cohen has worked at MJB since 2018. His main responsibilities are: editing the content of MJB's website, promoting the website, managing social networks, creating and designing digital content, and intra-organizational communication. Ori has a wealth of experience in managing projects in the technology industry.
Ori holds a BA in communications, marketing, and publicity from the Kinneret Academic College.
He can be contacted at orico@jdc.org or by telephone at 972-2-655-7555.