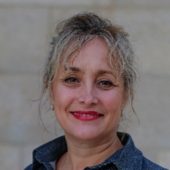 Director of Budget and Finance
Finance
Director of Budget and Finance, the Myers-JDC-Brookdale Institute (MJB), Israel's leading center for applied social research.
Sigal Asher has worked at MJB since 2013. She manages all the organization's finances and budgets. Her main responsibilities are building a financial team and developing professional training as well as advanced IT solutions. She strives at optimal outcomes focusing on internal and external clients. One of her strengths is building, fostering and maintaining relations inside and outside of the organization. She is highly experienced, including in international business transactions and has proven ability in the management of all the financial aspects of a rapidly growing organization in a changing environment.
Sigal is a CPA and holds a BA in economics and accounting from Bar-Ilan University.
She can be contacted at SigalA@jdc.org or 972-2-655-7462