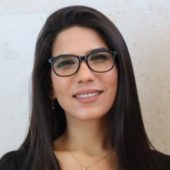 Research Analyst, Arab Population Team (Systems Group)
Arab Population
Research Analyst, Arab Population Team, Systems Group, the Myers-JDC-Brookdale Institute (MJB), Israel's leading center for applied social research.
Arwa Majadlih has worked at MJB since 2020. Her main research areas are: complex government programs, such as the five-year plan for the socio-economic development of the Bedouin population in the Negev, formulation of quality-of-life indicators for the Bedouin population in the Negev, and the integration of Arab youth in higher education and in the labor market. In addition, Arwa specializes in the study of government programs. from the gender perspective and the impact of such programs on Israeli society. In recent years, Arwa has engaged in academic research on the career aspirations and career choice of university graduates.
Arwa has extensive experienced in quantitative and qualitative research methods.
Previously, Arwa engaged in educational counseling and served as a coordinator and counselor for Arab students participating in the preparatory program conducted under the auspices of the Dean of Students Office at the Hebrew University of Jerusalem.
Arwa holds a BA in Education, an MA in Educational Counseling, and a Teacher Certification in Psychology for post-primary schools, all three from the Hebrew University of Jerusalem.
Arwa can be contacted at [email protected]