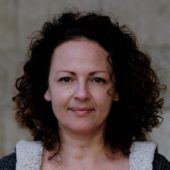 Research associate, Social Inclusion Team (Family Group)
Social Inclusion
Research associate, Social Inclusion Team, Family Group, the Myers-JDC-Brookdale Institute (MJB), Israel's leading center for applied social research.
Emilia Kapranov has worked at MJB since 2018. Her primary research areas are: the evaluation of social service and education programs, programs for children and youth at risk, and the decision-making processes of professionals regarding troubled children and families. She also specializes in immigration, attitudes towards minority groups, and the latter's impact on society. In recent years, she has dealt mainly with processing and analyzing quantitative data.
Emilia holds a multidisciplinary BA in social sciences and humanities from Ariel University, and is completing her MA in sociology from Tel Aviv University.
She can be contacted at [email protected] or by telephone at 972-2-655-7431.