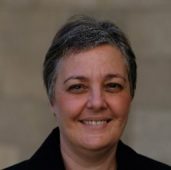 Administrative Coordinator, Health Team, (Systems Group)
Economics Service | Employment | Health Policy
Administrative Coordinator, Health, Employment, and Economics Service Teams, Systems Group, the Myers-JDC-Brookdale Institute (MJB), Israel's leading center for applied social research.
Nitza Wurmbrand has worked at MJB since 2012. Her main responsibilities are: support, coordination, and administrative management of the Systems Group teams. Also, as part of her work with the Editing and Publications Team, Nitza is in charge of designing presentations for MJB researchers.
Nitza holds a BA in Graphic Design Studies from the NB Haifa School of Design.
Nitza can be contacted at [email protected] or by phone at 972-2-655-7430.