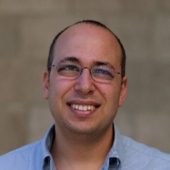 Research Scholar, Employment Team (Systems Group)
Employment | Pathfinder
Research Scholar, Employment Team, Systems Group, the Myers-JDC-Brookdale Institute (MJB), Israel's leading center for applied social research.
Oren has worked at MJB since 2016. His primary research areas are: the economics of employment, employment policy and professional training. In addition, in recent years, his studies have dealt with poverty and inequality, family economics, macroeconomics, and public economics.
Oren Tirosh holds a BA in economics from the Open University and an MA in economics from Bar-Ilan University.
He can be contacted at [email protected] or by telephone at 972-2-655-7430.