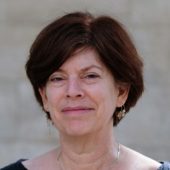 Yael Ashkenazi
Health and Society Team Leader, Senior Research Scholar
Health Care
Journal Articles
Ashkenazi, Y., Gordon, M., & Rosen, B. (2019). Using financial incentives to attract medical residents to the periphery: The Israeli experience. Health Policy, 123(1), 80-86. doi:10.1016/j.healthpol.2018.10.006
Shuval, J. T., Gross, R., Ashkenazi, Y., & Schachter, L. (2012). Integrating CAM and biomedicine in primary care settings: Physicians' perspectives on boundaries and boundary work. Qualitative Health Research, 22(10), 1317-1329. doi:10.1177/1049732312450326
Gross, R., Doron, D., Ashkenazi, Y., Hemo, B., Shoham, O. B., & Nahshon, I. (2011). C-B5-01: Childhood obesity: Risk factors, associated morbidity and service utilization. Clinical Medicine & Research, 9(3-4), 154.
Gross, R., Ashkenazi, Y., Tabenkin, H., Porath, A., & Aviram, A. (2008). Implementing QA programs in managed care health plans: Factors contributing to success. International Journal of Health Care Quality Assurance, 21(3), 308-324. doi:10.1108/09526860810868247
Ben-Zvi, N., Rosenbluth, M., Gross, R., & Ashkenazi, Y. (2006). Women's health E-learning program. Gender Medicine, 3(1), S45.
Book Chapters
Gross R, Ashkenazi Y., Schachter L. (2012). To regulate or not to regulate: The perspective of policymakers on integrated care. In Shuval, J. T., & Averbuch, E. (Eds.), Alternative and bio-medicine in Israel: Boundaries and bridges (pp. 175-196). Brighton: Academic Studies Press.