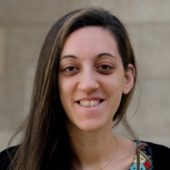 Research associate, Aging Team (Family Group)
Aging
Research associate, Aging Team, Family Group, the Myers-JDC-Brookdale Institute (MJB), Israel's leading center for applied social research. 
Yafit Cohen has worked at MJB since 2017. Her primary research areas are home care for the elderly; formal caregivers; the geriatric workforce; informal caregivers, such as family members; and early onset dementia. In addition, she focuses on the experience of long-term nursing caregivers and explores the elements that contribute to quality. She also studies how the increased demand for home care has impacted on the occupational status of caregiving. 
Yafit holds a BA in social work and an MA in Non-Profit and Community Organization Management, both from the Hebrew University of Jerusalem, in addition to a PhD in social work from the Hebrew University and Post doctorate from the University of Haifa. Her doctorate researched Israeli caregivers providing home care for the elderly and focused on emotional and gender aspects of home nursing care. Her post doctorate dealt with the meaning and experience of late-life divorce from dyadic, gender and an intergenerational perspective. 
She can be contacted at [email protected]
Journal Articles
Cohen, Y. B., Ostrovsky-Berman, E., & Resnizky, S. (2023). Family Caregivers for Younger Dementia Patients – The Experience of Treatment, Characteristics and Unmet Needs: A Case Study of the Ezer Mizion Center for Younger Dementia Patients. Gerontology and Geriatrics, 50(1-2), 39-58.
Finkelstein, A., Resnizky, S., Cohen, Y., Garber, R., Kannai, R., Katz, Y., & Avni, O. (2022). Promoting advance care planning (ACP) in community health clinics in Israel: Perceptions of older adults with pro-ACP attitudes and their family physicians. Palliative and Supportive Care, 1-10. doi:10.1017/S1478951521001942