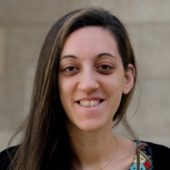 Research Analyst, Aging Team (Family Group)
Aging
Research analyst, Aging Team, Family Group, the Myers-JDC-Brookdale Institute (MJB), Israel's leading center for applied social research.
Yafit Cohen has worked at MJB since 2017. Her primary research areas are: home care for the elderly, formal caregivers, the geriatric workforce, and informal caregivers, such as family members. In addition, she focuses on the experience of long-term nursing caregivers and explores the elements that contribute to quality.  She also studies how the increased demand for home care has impacted on the occupational status of caregiving.
Yafit holds a BA in social work and an MA in Non-Profit and Community Organization Management, both from the Hebrew University of Jerusalem, in addition to a PhD in social work from the Hebrew University. Her doctorate was on the subject Israeli caregivers providing home care for the elderly and focused on emotional and gender aspects of home nursing care.
She can be contacted at yafitco@jdc.org or by telephone at 972-2-655-7431.