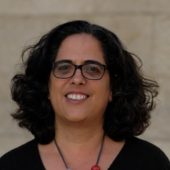 Dganit Levi
Research Scholar, Arab Population Team (Systems Group)
Arab Population
Research scholar, Arab Population Team, Systems Group, the Myers-JDC-Brookdale Institute (MJB), Israel's leading center for applied social research.
Dganit Levi has worked at MJB since 1999. Currently, her primary research area is the integration of individuals from the periphery and minority groups into higher education, with the emphasis on Arab integration into academia. Her interest in children and youth at risk led her to specialize in the integration of children, youth, and immigrant youngsters. She has considerable experience in the evaluation of complex programs and multifaceted data collection.
Dganit holds a BA in education, sociology, and anthropology, and an MA in the sociology of education, both from the Hebrew University of Jerusalem.
She can be contacted at dganitl@jdc.org or by telephone at 972-2-655-7429.