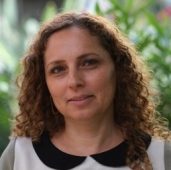 Senior Research Scholar and Disabilities Team Leader (Family Group)
Disabilities
Senior research scholar and Disabilities Team leader, Family Group, the Myers-JDC-Brookdale Institute (MJB), Israel's leading center for applied social research.
Dr. Lital Barlev has worked at MJB since 2003. Her primary research areas are: children with disabilities, housing for people with disabilities, and their participation in society. She specializes in the collection and analysis of data on Israelis with disabilities and the implications for social policy.
Lital holds a BA in behavioral sciences and an MA in organizational psychology, both from Ben-Gurion University of the Negev, and a PhD in social work at the University of Haifa.
She can be contacted at [email protected] or by telephone at 972-2-655-7431.
Journal Articles
Ornoy, A., Rivkin, D., & Barlev, L. (2018). Children with attention deficit hyperactivity disorder (ADHD): Accessibility and availability of services in Israel. Harefuah, 157(4), 219-224.
Ornoy, A., Ovadia, M., Rivkin, D., Milshtein, E., & Barlev, L. (2016). Prevalence of ADHD among 7-9-year-old children in Israel. A comparison between Jewish and Arab populations. Israel Journal of Psychiatry and Related Sciences, 53(2), 3-9.
Tzelgov, J., Yehene, V., Kotler, L., & Alon, A. (2000). Automatic comparisons of artificial digits never compared: learning linear ordering relations. Journal of Experimental Psychology: Learning, Memory, and Cognition, 26(1), 103-120.
Book Chapters
Barlev, L. (2022). Housing for People with Intellectual Developmental Disabilities. In Al-Yagon, M., & Margalit, M. (Eds.) Intellectual Developmental Disorders: Theory, research and implications (263-288). Keren Shalem. (Hebrew)