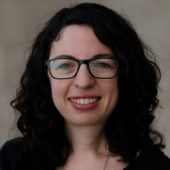 Research Associate, Disabilities Team (Family Group)
Disabilities
Research associate, Disabilities Team, Family Group, the Myers-JDC-Brookdale Institute (MJB), Israel's leading center for applied social research.
Mariela Yabo has worked at MJB since 2016. Her primary research areas are: the inclusion of young people with disabilities in the community, assistive technology and mobility equipment, and supported decision making. In addition, she is specializing in Disability Studies and accessibility for people with disabilities. She also coordinates a learning community on Disability Studies in Israel's Association of Sociology.
Mariela holds a BA in Economics and Sociology, and an MA in Sociology, both from Tel Aviv University. She is currently working towards her PhD in Urban Planning in the Department of Geography and Environmental Development at Ben-Gurion University of the Negev. Furthermore, she is a service accessibility professional certified by the Ministry of the Economy.
She can be contacted at [email protected] or by telephone at 972-2-655-7431.
Journal Articles
Bitman, N., & Yabo, M. (2023). "Your request is touching": Marginalization, weakness, and liminality experienced by disabled graduate students in Israel. Disability Studies Quarterly, 42(3-4).
Gleitman, I., Shaked-Koprak, R., Vax, S., Yabo, M., Ran, M., Tsabar, O., Stern, E., Grinstein, O.,  & Ran, R. (2022). "Timing is Everything": Developing a new Assistive Technology Service Delivery Model in Israel during the COVID-19 Pandemic. ICCHP-AAATE 2022 Open Access Compendium" Assistive Technology, Accessibility and (e) Inclusion" Part I.
Dorfman, D., & Yabo, M. (2020). The professionalization of urban accessibility. Fordham Urban Law Journal, 47(5), 1213-1256.