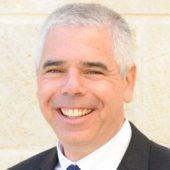 Executive Director
Executive Director's Office | Pathfinder
Prof. Michael Hartal, MD, MPH, has been the Executive Director of the Myers-JDC-Brookdale Institute since 2017. He is a public health physician by training, and has spent the majority of his career strengthening population health practice and policy in the public service. Prof. Hartal received his MD degree from Ben-Gurion University Medical School in 1995 and a Masters of Public Health from the Hebrew University Braun School of Public Health in 2002.
Prior to coming to MJB, Prof. Hartal served as a medical officer in the Israel Defense Forces for over 20 years, attaining the rank of lieutenant colonel. Having completed varied assignments as an epidemiologist, a public health officer and a health services administrator, he attended the IDF Command and Staff College in 2010 and assumed command of the IDF public health agency. He later headed the Academy and Research Branch of the Medical Corps, where he held responsibility for the research programs of the IDF's four medical research institutes.
Prof. Hartal also served as commander of the IDF Medical Cadet Program at the Hebrew University Medical School, and was responsible for the academic development of active duty medical personnel. He also developed and supported numerous international collaborations in research and education. An associate professor at the Hebrew University in Jerusalem, he teaches public health, research methods, and leadership skills. He has authored over 90 research papers.
Throughout his career, Prof. Hartal has spent a significant amount of time working in Israel's Ministry of Health, both in the office of the Director General and in the Public Health Service, where he was active in developing Israel's national public health policy. His policy research experience includes population- based studies, social determinants of health, and provision of community services.
In his current role as Executive Director of the Myers-JDC-Brookdale Institute, Prof. Hartal heads Israel's leading center for applied social research, directing the Institute's research, evaluation and consultation programs. The mission of Myers-JDC-Brookdale is to strengthen Israeli society by using meticulous study, rigorous research and extensive knowledge to help inform policy, advise programming, and improve services for individuals, families, and communities. The Institute works to strengthen Israeli society and the wellbeing of all its members throughout the life cycle, from children and youth at risk to the elderly, in central dimensions of life, including health, employment and human services.
Journals Articles
Rosen, B., Waitzberg, R., Israeli, A., Hartal, M., & Davidovitch, N. (2021). Addressing vaccine hesitancy and access barriers to achieve persistent progress in Israel's COVID-19 vaccination program. Israel Journal of Health Policy Research, 10, 43.  doi.org/10.1186/s13584-021-00481-x