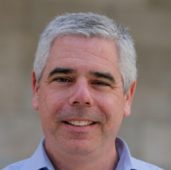 Prof. Michael Hartal
Executive Director
Executive Director's Office
Prof. Hartal served as a medical officer in the IDF for over 20 years. In 2010, after graduating from the IDF Command and Staff College, Prof. Hartal was promoted to the rank of Lieutenant Colonel and assumed command of the IDF's public health division.
Two years later, he assumed command of the Academy branch of the Medical Corps, where he oversaw 13 research programs carried out at the IDF's four medical research institutes.  In this role, he was responsible for directing and overseeing the IDF's research in military medicine. He served as commander of the IDF's Medical Cadet Program at the Hebrew University Medical School, and was responsible for the academic development of medical personnel in active duty.  He also developed and supported numerous international collaborations in medical research and education.
Throughout his career, Prof. Hartal has spent a significant amount of time working in Israel's Ministry of Health, both at the office of the Director General and in the Public Health services, where he was active in developing Israel's national public health policy.
Prof. Hartal is a Professor and member of faculty at the Hebrew University in Jerusalem, where he teaches public health, research methods and leadership skills.  He has authored over 90 research papers.