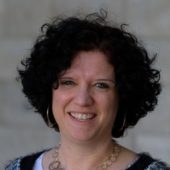 Talia Hasin
Research Scholar
Quality in Social Services
Talia has a rich and varied experience in program evaluation and research here at MJB.  Over the years, she has led the Institute's work with policy and programs for children and youth at risk, out of home care for children at risk, and promoting quality of services with the Ministry of Education and the Ministry of Labor, Social Affairs, and Social Services.
A native of San Francisco who moved to Israel when she was 6, Talia continues to have strong ties to Jewish communities around the world.  She has participated in professional collaborations with Jewish Care, the largest social welfare organizations in the UK.  As well, she worked in resource development for the UJA-Federation of New York.
Talia holds a BA and MA in Psychology from Bar-Ilan University. She is currently studying for her PhD in Gender Studies at Bar-Ilan.