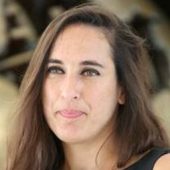 Tamar Medina Artom
Research Associate
Health Care
My story has a lot in common with the stories of many other women. Like other fertility patients, I went through numerous cycles of treatment that were drawn-out, painful, and invasive. And although patients are meant to receive emotional support for their wellbeing, in practice, many women do not receive the help they need.
My name is Tamar Medina-Artom and I have been a researcher at MJB's Smokler Center for Health Policy Research for eight years.
My story has a happy end. Due to the fertility treatment, I gave birth to two wonderful children. In addition, I research the subject in my work at MJB and in my doctoral studies at Tel Aviv University, and I have published a book on my experiences.
study focuses on the women undergoing fertility treatment. We interviewed several different types of participants in the process – patients, fertility professionals and directors of fertility units in hospitals. We asked about professionals' attitudes to patients, the explanations and emotional support provided, and the patients' involvement in the treatment. One interesting finding was that while staff believed emotional support to be a particularly strong aspect of their work, patients scored it as the least positive dimension. We hope the study will lead to increased awareness of the importance of appropriate emotional support to fertility patients.
My years of treatment, combined with my social-work background, have helped me realize that addressing the emotional needs of fertility patients could ease their ordeal. I put thought into practice and the diary I wrote at that time became a book IVF – A Friendly Guide to Fertility Treatment. The book provides practical and emotional advice to women undergoing fertility treatment, and gives their families and the professionals a deeper insight into their perspectives.
Another positive outcome of my experience is my doctorate, which examines the connection between patient-centered treatment and the emotional wellbeing of women undergoing fertility treatments.
I am proud to work at MJB because our research focuses on the beneficiaries of social services, and what is important to them.
Journal Articles
Brammli-Greenberg, S., Waitzberg, R., Medina-Artom, T., & Adijes-Toren, A. (2014). Low-budget policy tool to empower Israeli insureds to demand their rights in the healthcare system. Health Policy, 118(3), 279-284.