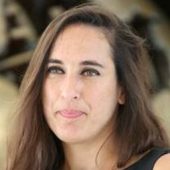 Researcher, Health Team (Systems Group)
Health
My name is Tamar Medina-Artom and I have been a researcher at MJB's Smokler Center for Health Policy Research since 2009.
My story has a lot in common with the stories of many other women. For years, I went through numerous cycles of drawn-out, painful, and invasive fertility treatments. It was an excruciating experience both physically and emotionally. I realized that although patients are meant to receive emotional support for their wellbeing, in practice, almost no emotional support is provided by the health care system to the women undergoing fertility treatments.
My story has a happy end. Thanks to the fertility treatments, I gave birth to two wonderful children. Drawing on my personal experience, I research the subject at MJB as well as in the academia and I have published a book on my experiences.
My years of treatment, combined with my social-work background, have helped me realize that addressing the emotional needs and wellbeing of fertility patients could ease their ordeal. I put thought into practice and the diary I wrote at the time became a book published under the title IVF – A Friendly Guide to Fertility Treatment. The book provides practical and emotional advice to women undergoing fertility treatments and offers their families and the professionals concerned a deeper insight into their experience.
I initiated a study that focused on women undergoing fertility treatments. We interviewed several different types of participants in the process – patients, fertility professionals and directors of fertility units in hospitals. We asked about professionals' attitudes to patients, the explanations provided regarding treatments, patient involvement in treatment and the emotional support provided. One interesting finding was that while the medical staff believed emotional support to be a particularly positive aspect of their work, patients scored it as the least positive dimension. I hope the study will lead to increased awareness of the importance of appropriate emotional support to fertility patients.
Another positive outcome of my experience is my PhD thesis, completed at Tel Aviv University, which examined the connection between patient-centered treatment and the emotional wellbeing of women undergoing fertility treatments.
You are welcome to contact me at tamarm@jdc.org
Journal Articles
Karnieli-Miller, O., Artom, T. R., & Neufeld-Kroszynski, G. (2022). Time to rise to the challenge of truly implementing patient-centered care and shared decision making in Israel: The educational and policy mission. Zeitschrift Für Evidenz, Fortbildung Und Qualität Im Gesundheitswesen, https://doi.org/10.1016/j.zefq.2022.04.013
Haham, L. M., Youngster, M., Shani, A. K., Yee, S., Ben-Kimhy, R., Medina-Artom, T. R., … & Librach, C. (2021). Suspension of fertility treatment during the COVID-19 pandemic: Views, emotional reactions and psychological distress among female fertility patients. Reproductive BioMedicine Online. doi.org/10.1016/j.rbmo.2021.01.007
Ben-Kimhy, R., Youngster, M., Medina-Artom, T. R., Avraham, S., Gat, I., Haham, L. M., … & Kedem, A. (2020). Fertility patients under COVID-19: Attitudes, Perceptions, and Psychological Reactions. Human Reproduction. doi.org/10.1093/humrep/deaa248
Medina-Artom, T. R., & Adashi, E. Y. (2020). Patient-centered care in Israeli IVF units: divergent perceptions of patients and providers. Israel Journal of Health Policy Research, 9, 39. doi.org/10.1186/s13584-020-00395-0
Brammli-Greenberg, S., Waitzberg, R., Medina-Artom, T., & Adijes-Toren, A. (2014). Low-budget policy tool to empower Israeli insureds to demand their rights in the healthcare system. Health Policy, 118(3), 279-284.