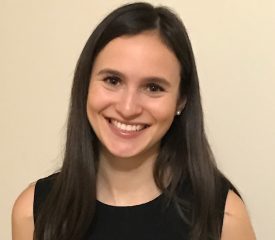 One of the hallmarks of MJB is its mixture of veteran and younger researchers, creating a collaborative research environment that blends the Institute's knowledge and experience with new perspectives on the issues.
Over the past weeks, the "younger" demographic was given a boost by the presence of Suzy Landon, a Newton, Massachusetts, native, who served as a research intern at the Smokler Center for Health Policy Research.
Landon, a graduate of the University of Pennsylvania's Health and Societies program and the London School of Hygiene and Tropical Medicine's Public Health program, came to the Smokler Center to learn more about health care policy research in Israel.
"I have known for a long time that I wanted to be a pediatrician, but I also am very interested in health services research," Landon explained.
In her internship, Landon worked closely with Yael Ashkenazi, head of the Smokler Center's Health and Society Team, on a secondary analysis of data from Ashkenazi's study of a Ministry of Health program to encourage young physicians to work in the periphery and enter underrepresented medical specialties.
"Our first report in 2017 included an analysis of the choices that the medical residents had made," said Ashkenazi. "Suzy has gone deeper into the data to see if there were other patterns related to differences between male and female residents and between the northern and southern peripheries. Our hope is that, if we do uncover new patterns, the new findings can help the Ministry tailor its incentives program even more, and make it even more effective."
During her stay at Brookdale, Landon also presented her Masters' work on how health system factors contribute to international variation in cancer survival in high-income countries.
Though it has been a short visit, Landon said that it gave her enough time to get a sense of MJB's interdisciplinary approach. "I knew about Smokler's health policy research, but I hadn't fully realized how wide-ranging the rest of the Institute was. As someone who is interested in the interdisciplinary nature of health, I appreciate the cross-cutting nature of the work."
Smokler Center Director Dr. Bruce Rosen was very pleased that the Center was able to coordinate with the Israel Experience's Career Israel internship program to host Landon. "Suzy is an extremely bright and friendly young woman. Even though her time at the Institute was limited, she contributed significantly both to the atmosphere in the Center and to our scientific work. We hope to have more interns like her in the future."
Yael Ashkenazi agreed that internships like Landon's are a "win-win" for students and the Institute alike. "In most studies, there is more data than we had the time to analyze. Having an intern work with us can be an opportunity to go deeper into the data and look at topics we weren't able to earlier.  At the same time, the students get real-world research experience under the guidance of experts on a particular subject."
For her part, Landon said that an MJB internship is perfect for someone who wants to get first-hand exposure to world-class research and to develop a deeper understanding of key issues in Israeli society and the innovative solutions created to address them. Plus, "Israel is small enough that the research here has national impact. You can't come anywhere close to that in the United States!"
Following her stay at MJB, Landon will remain in Israel through the spring as a volunteer with Magen David Adom in Israel as part of a Career Israel program. Upon her return to the United States, she will begin her medical studies.