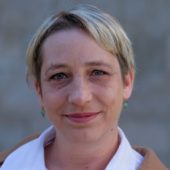 Senior Research Scholar and Team Leader, Children's Team (Family Group)
Children and Youth
Senior research scholar, Children's Team leader, Family Group, the Myers-JDC-Brookdale Institute (MJB), Israel's leading center for applied social research.
Yoa Sorek has worked at MJB since 1999. Her main research areas are: policy and the service system for children and youth at risk. She is an expert in policy on the care of families in crises and non-traditional families. Her studies also address policy development on a permanent home for every child, and services of foster care and adoption.
Her doctoral dissertation was on the lives of children of divorce from the children's perspective, and she is active in the development of care for families going through divorce, particularly children. She is a member of the professional In-Between Committee (Bein Levein), a social project for children and divorced parents.
Yoa holds a BA in Education and General and Comparative Literature, and an MA and PhD in Social Work, all from the Hebrew University of Jerusalem.
She can be contacted at yoal@jdc.org or by telephone at 972-2-655-7386.
Journal Articles
Sorek, Y. (2019). Children of divorce evaluate their quality of life: The moderating effect of
psychological processes.  Children and Youth Services Review,  107, doi.org/10.1016/j.childyouth.2019.104533
Sorek, Y. (2019). Children of Divorce – partners or transparent? [Hebrew] Nekudat Mifgash (16),  24-27.
Sorek, Y., Szabo-Lael, R., & Ben Simon, B. (2018). Changes in Israeli Foster Care Services Following Partial Privatization: the Perspective of Professionals and Policymakers. Society & welfare, 38(1), 231-261.
Tener D, Sorek Y, Schwartz E, (2018): "I did not know there was another life": Meanings of life in the out‐of‐home Mothers Unit reunification programme. Child & Family Social Work.
Sorek, Y., Nijim-Ektelat, F. & Segal, A. (2016). Open Adoption – advantages, difficulties and insights on the best practice. [Hebrew] Et HaSade, 17, 88-106
Morag, T., Rivkin, D., & Sorek, Y. (2012). Child participation in the family courts—Lessons from the Israeli pilot project. International Journal of Law, Policy and the Family, 26(1), 1-30.
Book Chapters
Morag, T., Sorek, Y., & Inbar, A. (2016). Children's participation in Israeli family courts: An account of an ongoing learning process. In A. Scully-Hill, S. Sihombing, & K. Lynch (Eds.), Reforming Hong Kong's child & family justicesystems. Sha Tin, N.T.: The Chinese University Press.
Morag, T., Sorek. Y., & Inbar, A. (2015). Children Participation in Israeli Family courts: An account of an ongoing learning process. in: Gal, T., & Faedi Duramy, B.: International perspectives and empirical findings on child Participation. From social Exclusion to child inclusive policies. Oxford University press.