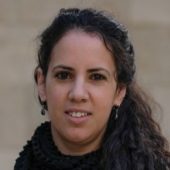 Research Associate, Children, Youth and Young Adults Team (Family Group)
Children, Youth and Young Adults
Research associate, Children, Youth and Young Adults Team, Family Group, the Myers-JDC-Brookdale Institute (MJB), Israel's leading center for applied social research.
Fida Nijim-Ektelat has worked at MJB since 2004. Her primary research areas are early childhood, the evaluation of services for parents and children, policy and services regarding out-of-home placement, and cultural sensitivity, particularly as regards Arab society.
Fida holds a BA in political science and philosophy from the Hebrew University of Jerusalem, and an MA in education (technologies and learning systems) from the Open University.
She can be contacted at [email protected] or by telephone at 972-2-655-7431.
Journal Articles
Sorek, Y., Ben-Simon, B., & Nijim-Ektelat, F. (2020). Motivation matters: Parents' path to adoption as related to their perceptions of open adoption. Children and Youth Services Review, 118, doi.org/10.1016/j.childyouth.2020.105430
Book Chapters
Somekh, S., Almog, Y., & Nijim-Ektelat, F. (2018). When cultural differences make a difference: The case of community change in an arab community in israel. In N. Walzer, & L. Weaver (Eds.), Using collective impact to bring community change (pp. 156-174). New York: Routledge.