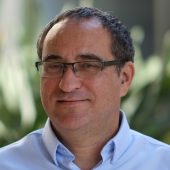 Senior Research Scholar and Arab Population Team Leader (Systems Group)
Arab Population
Senior research scholar and Arab Population Team leader, Systems Group, the Myers-JDC-Brookdale Institute (MJB), Israel's leading center for applied social research.
Yonatan Eyal has worked at MJB since 2011. His primary research areas are: employment (vocational training), disabilities (personal budgeting), and cost effectiveness, and is experienced in the evaluation of complex programs. In recent years, he has evaluated the government's national Five-Year Plan to promote the Bedouin population in the Negev.
Yonatan holds a BA in industrial engineering and management from Ben-Gurion University of the Negev, an MA in economics from Tel Aviv University, and a PhD in economics from the Hebrew University of Jerusalem. As part of his doctorate, he specialized in quantitative evaluations of the impact of intervention programs.
He can be reached at [email protected] or by telephone at 972-2-655-7468
Research Gate Link: https://www.researchgate.net/profile/Yonatan_Eyal
Journal Articles
Ekstein, D., Tirosh, M., Eyal, Y., & Eyal, S. (2015). Drug interactions involving antiepileptic drugs: Assessment of the consistency among three drug compendia and FDA-approved labels. Epilepsy & Behavior, 44, 218-224. doi:10.1016/j.yebeh.2015.02.009
Nirel, N., Grinstien-Cohen, O., Eyal, Y., Samuel, H., & Ben-Shoham, A. (2015). Models for projecting supply and demand for nurses in Israel. Israel Journal of Health Policy Research, 4(1), 46. doi:10.1186/s13584-015-0043-6
Eyal, Y. (2010). Examination of the empirical research environment of program evaluation: Methodology and application. Evaluation Review, 34(6), 455-486. doi:10.1177/0193841X10394980
yal, Y., & Beenstock, M. (2008). Sign reversal in LIVE treatment effect estimates: The effect of vocational training on unemployment duration. Labour Economics, 15(5), 1102-1125. doi:10.1016/j.labeco.2007.10.001